Effects on clinical signs, lipids and hydration factors of combined applications of shampoo and mousse containing Ophytrium and Seboliance in seborrheic dogs
J. Kondratjeva1  – J. Brun1 – N. Amalric2 – F. Moog1 – D. Combarros1;3 – C. Pressanti1 – C. Zemirline4 – N. Maubert4 – M. Gatellet4 – M.C. Cadiergues1;3
1Small Animal Clinic, Université de Toulouse, ENVT, Toulouse, France – 2Synelvia, Labège, France – 3UDEAR, Université de Toulouse, INSERM, ENVT, Toulouse, France – 4Ceva Santé Animale, France
Performance of the DOUXO® S3 SEB shampoo and subsequent mousse applications (CEVA, France) was assessed over three weeks in 18 seborrheic dogs in a prospective, controlled study. The protocol combining shampoo and leave-on mousse applications resulted in a significant clinical improvement,  the maintenance of skin hydration, initial decrease and further restoration in hair lipids.
Seborrhea is frequent and time-consuming1
Shampoos are often effective2 but
• procedure takes time
• are often hard to realize
• a combination of different types is often necessary
Ophytrium3, a purified natural ingredient, has a high tolerance and a simultaneous threefold action on the skin barrier: it strengthens the mechanical barrier, limits the adhesion and biofilm formation and soothes the skin.
Seboliance4, a natural plant extract, has seboregulating properties.
Evaluate the protocol combining applications of one shampoo and subsequent mousses containing Ophytrium and Seboliance (DOUXO® S3 SEB, Ceva Santé Animale, Libourne, France) in seborrheic dogs on:
• tolerance
• performance: clinical score (CS), pruritus, skin surface cytology, natural moisturizing factors content (NMFs), hair surface lipids content (HL)
Animals
18 adult dogs (griffons, Bruno du Jura and Bleu de Gascogne)
• idiopathic greasy seborrhea
• same diet/environment prior and during the study
• randomly allocated in placebo (plain water – 6 dogs) or test (12 dogs) group
Study design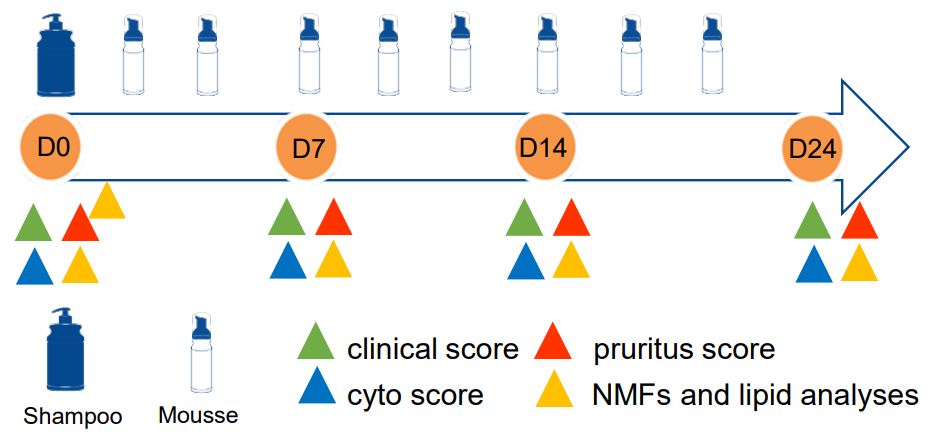 REFERENCES
1. JS Yoon at al., Vet Dermatol, 2013, 24:84-89.e21-22.
2. W Rosenkrantz, Clin Tech Small Anim Pract, 2006, 21:106–16.
3. MH Chen et al., J Ethnopharmacol, 2016, 181:193–213.
4. K Barathikannan et al., BMC Complement Altern Med, 2016,16:264.
The study was funded by Ceva.