The slide scanning service we offer
Bioalternatives provides you with a complete service for sample analysis using slide scanning. This service includes:
The specific preparation of the samples to be observed.
Observation and imaging in order to obtain a global view of the sample.
The sending of the full scan in digital format.
Contact the Bioalternatives team of experts if you wish to illustrate your studies, support your quantitative results and enrich your marketing materials with an innovative digital approach.
What is slide scanning?
At a time of biological data computerization, slide scanning (virtual slides) has become a major tool for cosmetics research.
Virtual microscopy consists in scanning and digitizing a selected field in order to obtain a global view of the biological materials that are being observed. In addition to the high resolution viewing of the slides, this method allows us to move on the slide, to adjust the brightness and to zoom in areas of interest.
You can virtually view this image (in jpg or tiff format) from any computer, as you would on a microscope. We also benefit from a digital storage of these slides for validation and archiving purposes.
Bioalternatives provides you with the ability to semi-automatically digitize your slides, by using a Nikon Eclipse Ci straight microscope equipped with a motorized X-Y-Z stage (autofocus). This system enables the capture of « big images » at x10, x20 or x40 magnifications (contact us).
This system is suitable for histology, immunohistochemistry and immunofluorescence techniques.
Examples of slide scanning
Scanning of explant section of colored human skin (HES) x40


Whole non-zoomed scanned image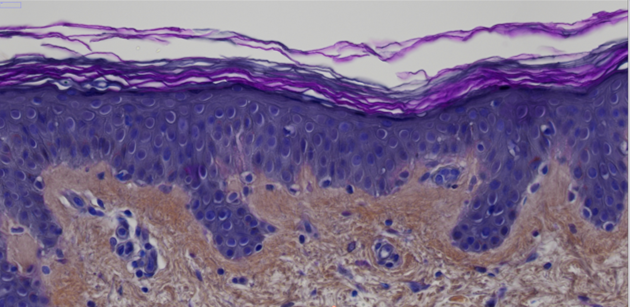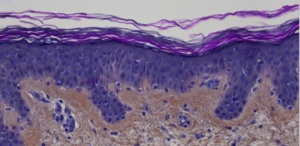 Zoomed scanned image
Scanning of explant section of fluorescence-labeled human skin x40

Whole non-zoomed scanned image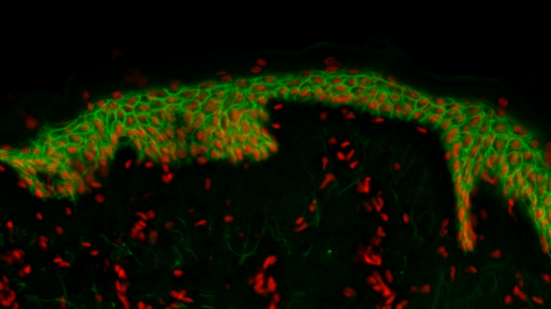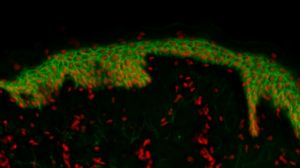 Zoomed scanned image
CDH1 or E-cadherin in green (membrane labeling)
Propidium iodide in red (nucleus)