The NHEK (Normal Human Epidermal Keratinocytes) In Vitro Model in Cosmetics Testing
NHEK, or Normal Human Epidermal Keratinocytes, are used for a variety of studies, including efficacy and safety testing of cosmetic products. NHEK can be used as a monolayer culture, or to create 3D in vitro models, such as reconstructed human epidermis (RHE). Depending on your research or testing needs, specialist companies can make available NHEK with the exact characteristics to suit your project.
Let's take a closer look at NHEK and their application in the safety and efficacy testing of cosmetic products.
Normal Human Epidermal Keratinocytes, or NHEK, have many different applications in research. However, before diving any deeper, let's look at what keratinocytes are, and what they do under normal biological conditions.
Keratinocytes get their name from keratin, a key structural protein in hair and nails. Keratin can create some of the toughest biological matter, including animal claws, horns, and hooves. In the skin, it is instrumental for protecting epithelial cells from damage and stress.
In the human body, keratinocytes make up around 90% of the cells of the epidermis (the outermost layer of the skin). Their primary function is to provide a barrier and protect the body against environmental damage by UV radiation, heat, parasites, and harmful microorganisms.
In the lab, normal human epidermal keratinocytes can be used to study the function and diseases of the epithelium (including epidermis), wound healing, skin biology, toxicology, and more. But first, how are NHEK produced?
The different tasks involved in harvesting, storing, and culturing NHEK are carried out by life science companies. First, primary cells are obtained from donors. The two main ways to procure human keratinocytes are:
from juvenile foreskin (obtained after circumcision); and
from normal adult skin (remaining after plastic surgery).
After isolation, the cells are cryo-preserved (frozen) for storage. Such cell banks usually contain NHEK from donors of different age, sex, and ethnicity, as well as from different sites on the body.
When NHEK with certain characteristics are required for a research project, a specific amount of cells is thawed and cultured in a suitable medium. NHEK can be used as a monolayer culture or grown in a liquid/air interface to create in vitro 3D models of human skin, such as Reconstructed Human Epidermis (RHE).
In Vitro NHEK Models in Cosmetics Testing
Normal Human Epidermal Keratinocytes have a wide variety of applications, from research into skin disease and wound healing, to efficacy and toxicity testing of cosmetics.
NHEK in Cosmetics Cytotoxicity Testing
Toxicity testing is crucial for ensuring the safety of your cosmetic products and mandatory in major consumer markets. As part of cosmetics safety testing, researchers assess the product's cytotoxicity–whether it is toxic to cells. NHEK, being an in vitro model, offers a non-animal alternative for safety testing, which is particularly important for markets that have banned animal testing for cosmetics (such as the EU). The cytotoxicity assay measures the response of NHEK cells to the compounds in the cosmetic product by assessing the cells' viability after exposure.
This preliminary in vitro cytotoxicity test estimates the non-cytotoxic concentrations of a test compound (molecule, ingredient, extract) for a given cell model and associated culture conditions (medium, density, treatment time and frequency, etc.). This test is an essential prerequisite for conducting biological tests (in vitro pharmacology test, efficacy test).
NHEK in Cosmetics Efficacy Testing
The NHEK model can also be used for different cosmetic efficacy testing. For example, Normal Human Epidermal Keratinocytes can be used to assess the antioxidant properties of certain cosmetic ingredients. In this experiment, researchers take two groups of NHEK cells, treat one group with a compound with antioxidant claims, then subject both to a chemical that creates oxidative stress. To determine the protective effect of the compound, researchers then compare the cellular response of the treated group vs. the untreated (control) group.
Other cosmetic efficacy tests involving the NHEK in vitro model include:
Examples of readouts : viability, proliferation, migration, differentiation (filaggrin, loricrin, cytokeratin, transglutaminase expression), epidermal lipids, barrier function, epidermal extracellular matrix, clonogenicity.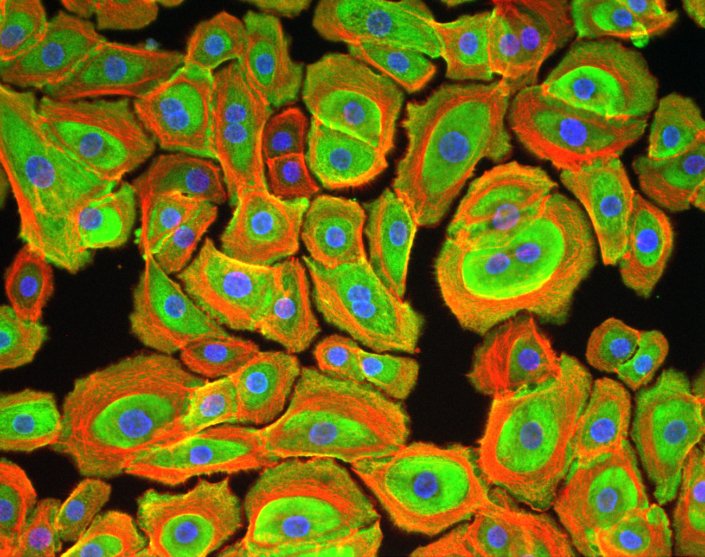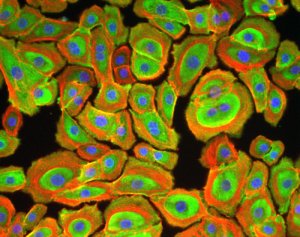 1
Labeling of NHEK (Myosin in green, actin in red, nuclei in blue)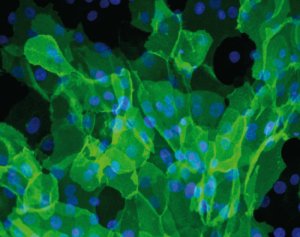 1
Labeling of NHEK (TGK in green, nuclei in blue)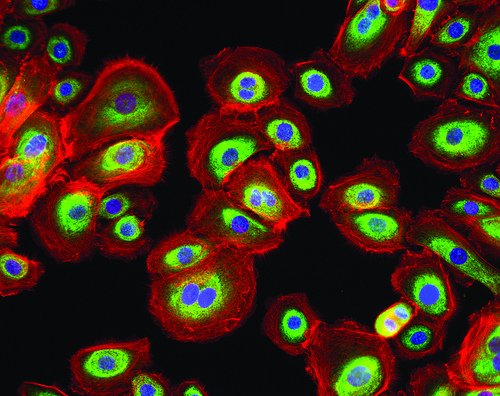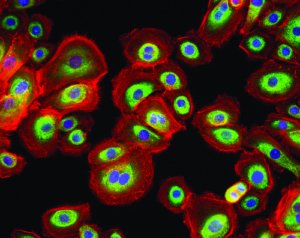 1
Labeling of NHEK (Endoplasmic reticulum in green, actin in red, nuclei in blue)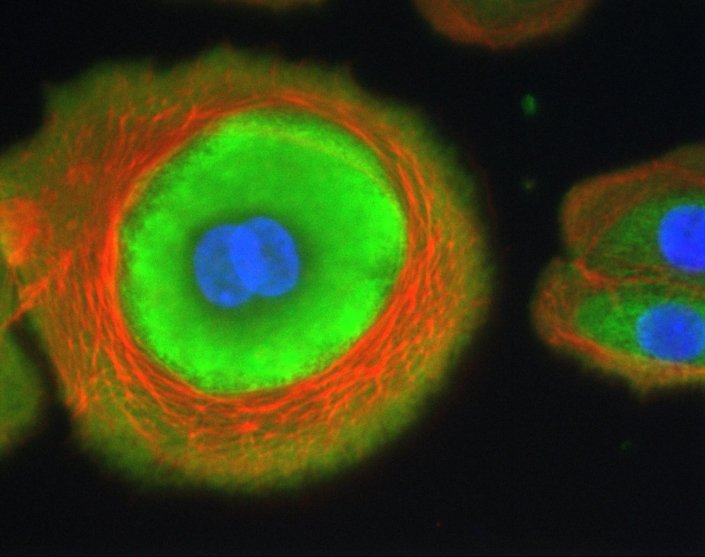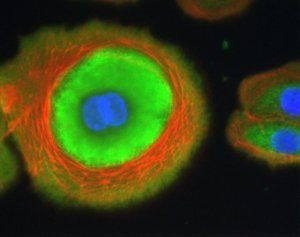 1
Labeling of NHEK (Myosin in green, actin in red, nuclei in blue)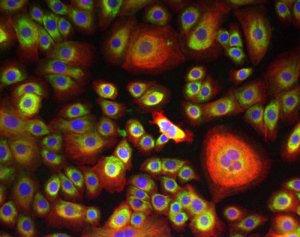 1
Labeling of NHEK (Collagen IV in green, tubulin in red, nuclei in blue)
Find a Cosmetics Testing Program to Suit Your Needs
At Bioalternatives, we are committed to developing effective in vitro alternative options to animal experimentation methods, by offering a full range of solutions for the development of active ingredients and cosmetic formulations.
We offer customized technical solutions to guide your product research and support the claims of your cosmetic products. Our selection of in vitro and ex vivo testing solutions can be used to characterize your cosmetic products' active ingredients, demonstrate the efficacy of your formulations, and test the safety of your cosmetic products at an early stage (for R&D purposes only).
With extensive experience in cosmetic product testing and state-of-the-art facilities, we are pleased to offer you dedicated project management support and consulting for your R&D process.
Ready to discuss a testing and research program that will suit your business's needs?