Oily skin is characterized by the accumulation on its surface of excess sebum, a substance secreted by sebaceous glands. Sebum is composed of triglycerides, diglycerides and monoglycerides (fatty acids linked to a glycerol motif), wax esters, squalene (very sensitive to oxidation) and sterols (eg. cholesterol). Sebum is secreted by sebocytes through a process of cell differentiation and lipid synthesis or accumulation, called lipidogenesis.
Lipidogenesis is dependent on many factors (hormones, food, pharmaceutical active ingredients, xenobiotics, etc.), which can be identified in in vitro experiments. Mature sebocytes undergo apoptosis and burst to release sebum, which travels through the hair follicle to the skin surface. Sebum lubricates the hair follicle and spreads over the surface of the skin at the stratum corneum level.
An overproduction of sebum, called hyperseborrhea, is responsible for oily skin and greasy hair. In some cases, hyperseborrhea can also contribute to the development of acne prone skin.
Oily skin and hyperseborrhea:
in vitro

models and assays
QIMA Life Sciences has many in vitro or ex vivo models at your disposal:
sebocyte cell line (SEBO662)
3D sebocyte cell line (SEBO662 3D)
sebocyte cell line in response to androgens (SEBO662AR)
on which we can evaluate the effects of active ingredients or cosmetic formulations on sebaceous gland regulation and acne by measuring:
sebocyte differentiation and maturation  (EMA, KRT7, etc.)
lipidogenesis (lipid accumulation and production)
5-alpha reductase activity and testosterone metabolism
Here are a few examples among all assays proposed by QIMA Life Sciences in the field of oily skin and hyperseborrhea:
No products found which match your selection.
Oily skin and hyperseborrhea: clinical bioanalysis
Analysis of sebum components and free fatty acids
Our company has developed ready-to-use non-invasive collection kits to analyze the surface lipids and biomarkers of the skin from your samples, or from those of your clinical center.
The sebaceous lipids and the fatty acids that constitute the epidermis and scalp are sampled using two non-invasive sampling kits (SB Kit and SW Kit).
The analysis of the components of sebum and free fatty acids makes it possible to assess:
The lipase activity of certain microorganisms in the skin microbiota
Sebum regulation
Inflammation – by quantification of pro / anti-inflammatory fatty acids
Oxidative stress – peroxidation (peroxidized squalene), detoxification (CAT, SOD)
Anti-microbial activity
The qualitative and quantitative composition of sebum
These analyses help support your claims about the efficacy of anti-acne, oily skin, soothing, protective, anti-pollution products, etc.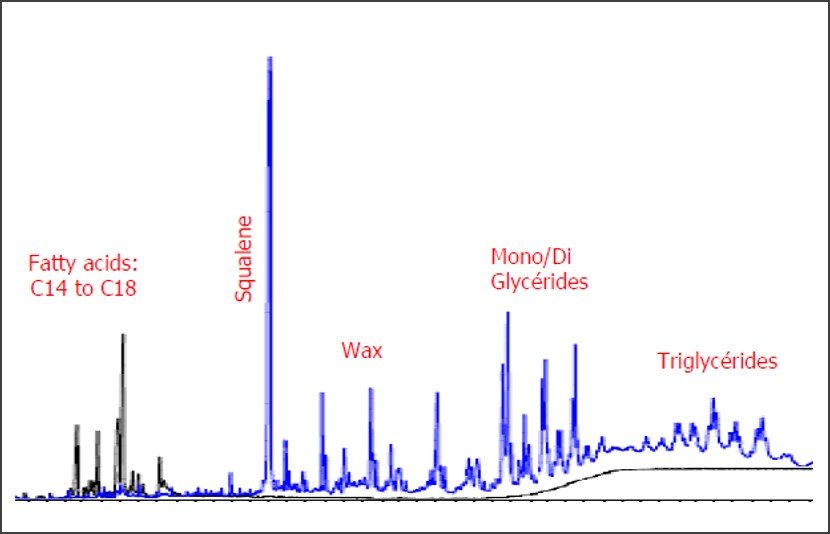 Sebaceous lipids screening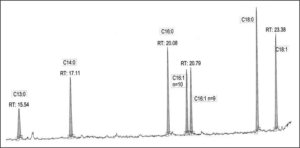 Detailed composition of sebum fatty acids by CG/SM
Skin microbiota and inflammation analysis
Hyperseborrhea is frequently associated with disorders of the skin microbiota. Maintaining a good balance in the microbiota helps minimize the inflammation caused by the bacteria that colonize the hair follicle (e.g. C. acnes).
Samples are taken using the SW Kit. The qualitative and quantitative analyses of the bacteria present on the surface of the skin are carried out by:
Traditional microbiology on agar
Targeted qPCR
Non-targeted metagenomic analysis
Inflammatory markers (cytokines, fatty acids, PGE2) are also analyzed.
These analyses help support your claims about the efficacy of "friendly" microbiota, bacteriostatic, prebiotic, soothing products, etc.
Oily skin and hyperseborrhea: posts and publications