The epidermis is morphologically composed of distinct and stratified layers which reflect the sequential differentiation of keratinocytes that migrate from the basal layer to the superficial layer. Epidermal regeneration relies on the adequate balance between proliferation and differentiation of epidermal stem cells as well as on the removal of superficial dead cells (corneocytes) by desquamation, in order to maintain or to restore epidermal structure and functions.
Heredity, environment, lifestyle but also acne, inflammation, wound healing or ageing are factors that are known to have an impact on epidermal regeneration quality and speed.
The in vitro evaluation of an active or cosmetic compound on epidermal regeneration can be measured by analyzing the:
cell migration and proliferation
cell differentiation (retinoid-like effect)
Epidermal regeneration and cell metabolism: available models and assays
QIMA Life Sciences has many in vitro or ex vivo models at your disposal:
human epidermal keratinocyte stem cells (KSC)
normal human epidermal keratinocytes (NHEK)
reconstructed human epidermis (RHE)
full thickness skin (FTSK)
skin explants (ex vivo)
on which we can evaluate the effect of active compounds or formulations on epidermal regeneration and cell metabolism by measuring:
cell viability and metabolism
morphology, integrity and thickness of the epidermal tissue
cell proliferation and migration
clonogenicity (capacity of progenitor cells to form colonies)
epidermal differentiation or dedifferentiation (differentiation markers: filaggrin, loricine, etc.), retinoid-like effects
Here are a few examples among all standard assays proposed by QIMA Life Sciences in the field of epidermal regeneration:
Biochemical analysis of non-invasive clinical samples
Analysis of lipids involved in the barrier function
Our company has developed ready-to-use non-invasive collection kits to analyze the lipids and biomarkers of the skin surface from your samples or from those of your clinical center.
The epidermal lipids involved in the barrier function of the epidermis (ceramides, fatty acids and cholesterol) are removed using the SW Kit.
The analysis of these lipids makes it possible to evaluate the quality of the intercorneocyte cement involved in the barrier function of the epidermis and in the prevention of transepidermal water loss (TEWL).
These evaluations help support your claims about the efficacy of biomimetic products, barrier products, protective products, moisturizers, etc.
Analysis of the components of the Natural Moisturizing Factor (NMF)
The amino acids and minerals present on the surface of the skin are collected using the SW Kit:
PCA / UCA (cis/trans) – (catabolites of filaggrin)
Amino acids
Urea, lactates
Mineral elements: Ca, K, Na, Mg, Zn, etc.
The analysis of these compounds makes it possible to evaluate the impact of the NMF component on skin hydration.
These analysis help support your claims about the efficacy of hygroscopic products, barrier products, protective products, moisturizers, etc.

Screening des céramides – LC/MS
–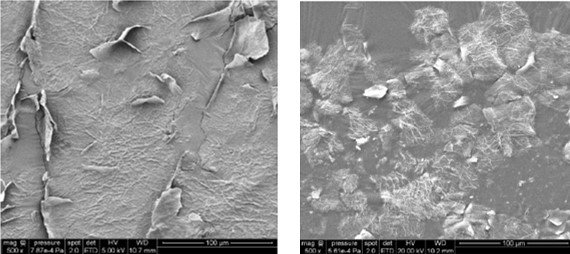 Cornéocytes endommagés et sains – SEMX500
–
Analyse des PCA – LC/UV
Data mapping and clinical imaging
Measurement of DHA fading kinetics by skin image analysis
Cell regeneration can be measured in vivo by measuring the progressive fading of a surface coloring solution (DHA solution).
After a standard coloration of the stratum corneum surface, the color fades as desquamation cycles occur.
This type of measurement can be performed by colorimetric analysis of high-resolution images of the skin. Image acquisition is completed by using the SkinCam® (2.5 cm diameter range), or the NomadCam® (range 5 to 5 cm). The markers are color indicators L* a* b* as well as surface color homogeneity.
Accelerating color fading shows acceleration of desquamation.